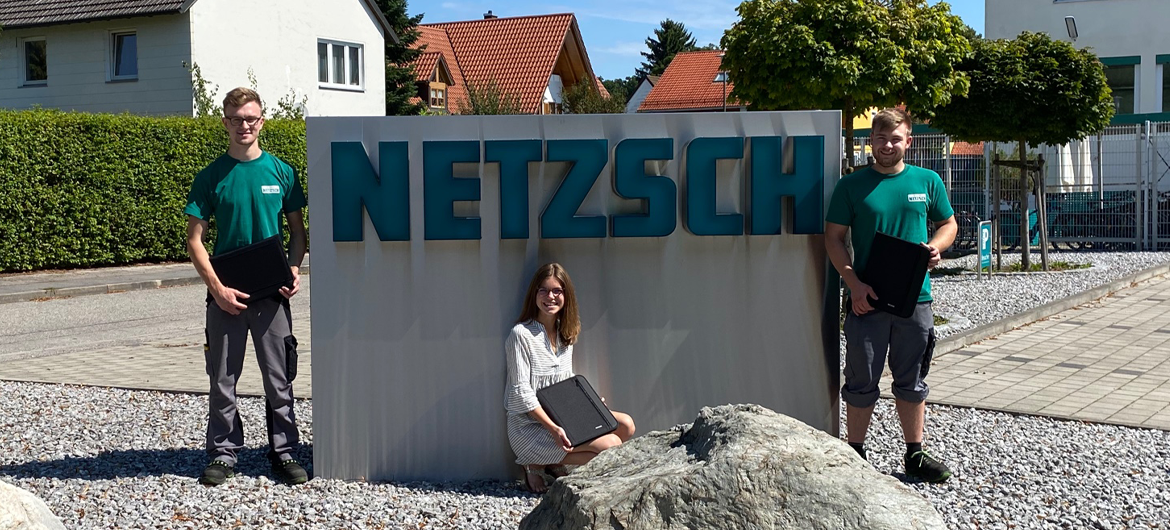 18.08.2021
NETZSCH Congratulates Its Apprentices on Their Successful Degrees
Despite the difficult conditions last year, the NETZSCH graduates performed brilliantly in their final exams. Outstanding results were achieved in the IHK final examination and the graduation certificate of the vocational school. All eleven graduates could also be taken on as professionals. Both sides had great joy when the management and the trainers congratulated the young professionals on their achievements.
Once again this year, the NETZSCH apprentices performed above average, even though school and internal company lessons were only possible sporadically. Due to the Corona crisis, the apprentices worked out the exam material on their own initiative and with support from their trainers using the "learning at home" teaching model. According to this model, all available digital options were used to support the apprentices at home. It was important for the trainers to compensate for not having the company lessons on site.
The performance of the graduates is nevertheless outstanding. The head of training, Angelika Gründl, emphasized: "Our young people remained motivated and achieved their desired goal even in this difficult exceptional situation through perseverance, ambition and constructive handling of the given challenges."
Outstanding achievements of NETZSCH apprentices
Particularly noteworthy are the very good results in the overall IHK final examination of Claudius Gräml (97 pts.), Katharina Thaler (96 pts.), Christian Weingartner (94 pts.), Maximilian Kuznik (93 pts.) and Kilian Stelzl (92 pts.) as well as all trainees who were awarded a state prize (grade point average in the final certificate of the vocational school up to 1.5): Katharina Thaler (1.0), Florian Linner (1.0), Christian Weingartner (1.0), Thomas Resch (1.0), Kilian Stelzl (1.1), Claudius Gräml (1.2), Maximilian Kuznik (1.3) and Manfred Bierer (1.5).
The outstanding achievements were celebrated at a group dinner. In a relaxed atmosphere, the apprentices, together with their trainers, reviewed the past years with some great experiences.
You can be proud of yourselves. We look forward to welcoming you to the respective departments!
More news from NETZSCH Pumps & Systems