La pompe à double vis hygiène NOTOS® 2NSH de conception FSIP® (Full Service in Place) permet un transfert de fluide sans à-coups avec de faible pulsation, un entretien simple et une facilité d'utilisation au sein du process.
De conception compacte, hautement stable et précise, la pompe à double vis est idéale pour les industries qui apprécient la qualité et la productivité maximale: Une solution fiable adaptée aux exigences du process. La pompe double vis a été conçue pour des applications hygiènes afin de transférer des fluides fortement visqueux à des pressions de service élevées pouvant atteindre 16 bars ou 230 psi. Chocolat, jus de fruits ou yogourts aux fruits sont des exemples de transfert dans le respect de leur consistance et de leurs propriétés naturelles, sans perte de qualité. Le concept FSIP® permet de démonter et remonter complètement les vis et la garniture mécanique sans démonter la pompe de la ligne de production. Les temps d'arrêt pour les travaux de maintenance peuvent donc être considérablement réduits. Cette solution technique assure confort et sécurité du process. La pompe type 2NSH est en acier inox AISI 316L. Les surfaces sont polies conformément aux normes internationales en vigueur. Le conception permet un nettoyage en place (CIP - "cleaning in place") et une stérilisation (SIP - " sterilization in place sans nécessité d'un système auxiliaire. En effet avec le nettoyage CIP classique, une pompe additionnelle est souvent nécessaire pour maintenir le système sous pression. Avec la pompe NOTOS® 2NSH, aucune autre pompe n'est nécessaire. Elle est utilisée comme pompe process et comme pompe CIP pendant la phase de nettoyage. Aucun by-pass, ni vanne ou tuyauterie supplémentaires sont nécessaires. Il n'y a aucun contact entre les vis. Aussi, la vitesse de la pompe peut être élevée et son régime maximum atteint rapidement.
NOTOS® 2NSH multi screw pump:
Easy to clean and sterilize
The 2NSH is made of AISI 316L stainless steel and polished to international standards. Therefore, it is easy to clean (CIP - "cleaning-in-place process") and can even be sterilized (SIP - "sterilization-in-place process"). Cleaning can be carried out on the NOTOS® 2NSH without an auxiliary system. With conventional CIP cleaning, an additional pump is often necessary to keep the system clean. With the 2NSH, no other pump is required. It works as a feed pump and also as a CIP pump during the cleaning process. You do not need a bypass, valves or additional pipes. There is no contact between the rotating delivery elements. Thus, the pump speed can be greatly increased, and the fluid rate quickly reaches the necessary value.
Avantages
Etanchéité par garniture mécanique avec certification alimentaire
Grande capacité d'aspiration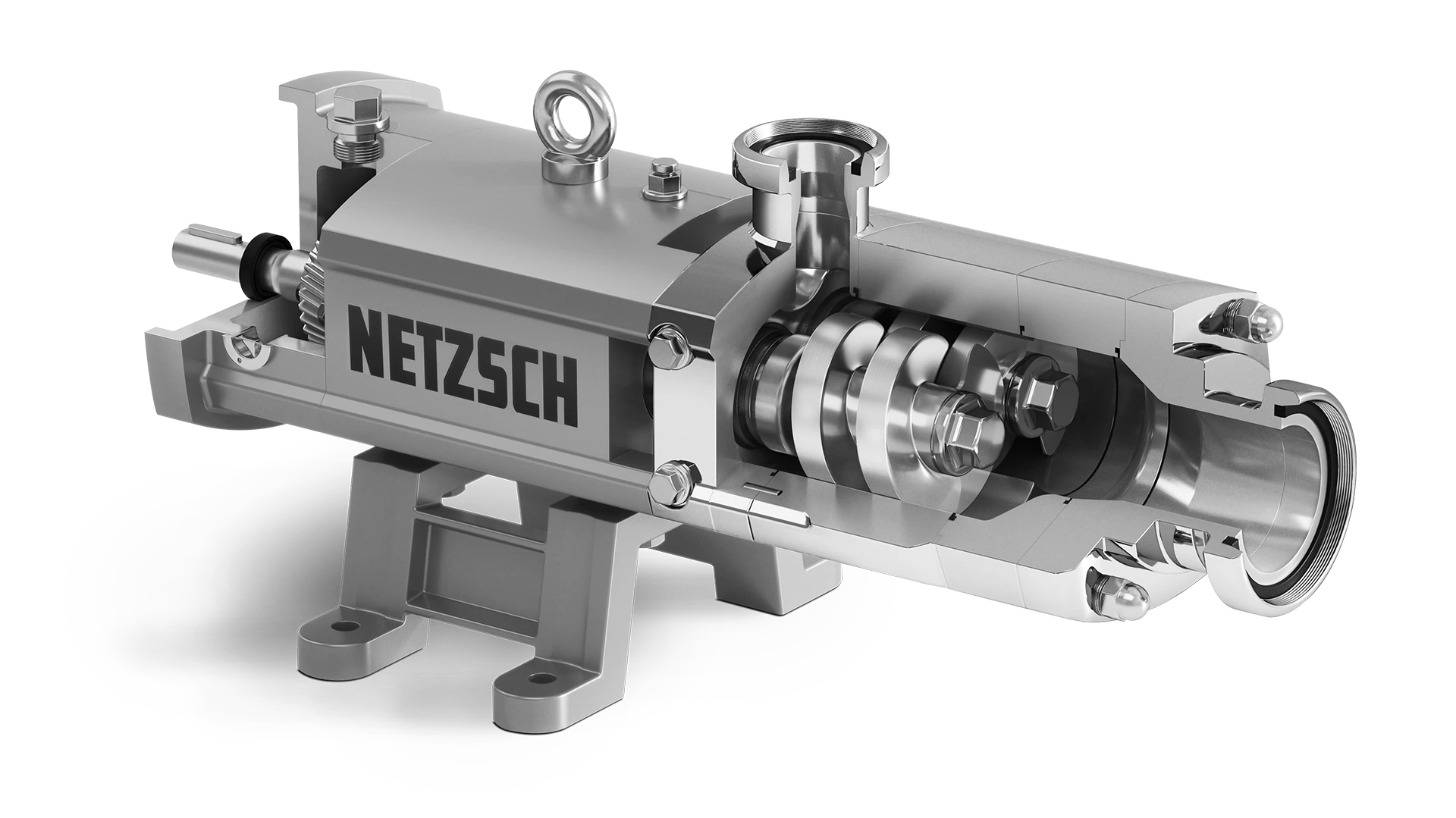 Bearings designed for high load capacity with housing in stainless steel allowing external cleaning of the pump.
Pump housing with a unique design for FSIP® – Full Service in Place, allowing the easy and quick pump disassembly, without having to disconnect it from the piping. Available in foot or self-aligned flange design. FDA-approved sealing, without dead spaces.
Internally polished flanges as per hygienic standards to ensure complete pump cleaning [Ra <0.8 μm]. Various sanitary connection options available such as DIN, TC, SMS, RJT, and others.
Stainless steel screws with high efficiency profile, allowing higher
flow rates
with low fluid shear. Multiple pitch options available, all balanced and with high suction capability. Easy replacement of the screws without disassembly of the bearings. Screws with the same diameter are changeable just by changing the pitch.
Helical gears provide smooth torque transmission between the screws and ensure the contactless operation of the pumping elements.
Stainless steel shafts designed for high torque, with the option to rotate in both directions.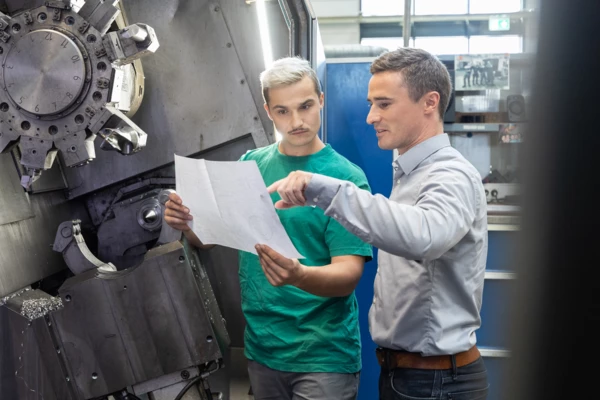 Worldwide service and support for your pump and system
Our service and support do not end with the purchase. From consultation, spare parts and maintenance to the repair and modernisation of your pump - we support you right from the start.
Thanks to our worldwide service network, we are ready for you around the clock in case of an emergency.
Your contacts and companies at NETZSCH
Any specific questions? Contact us for help or fill in the contact form.
News from NETZSCH Pumps & Systems