Molybdenum Sludge
Conveying Abrasive Molybdenum Sludge
TORNADO® rotary lobe pumps ensure significantly reduced maintenance requirements for sludge pumping

Special TORNADO® rotary lobe pumps convey highly abrasive molybdenum sludge in a mine in the western USA and ensure a significantly increased service life due to their robust design.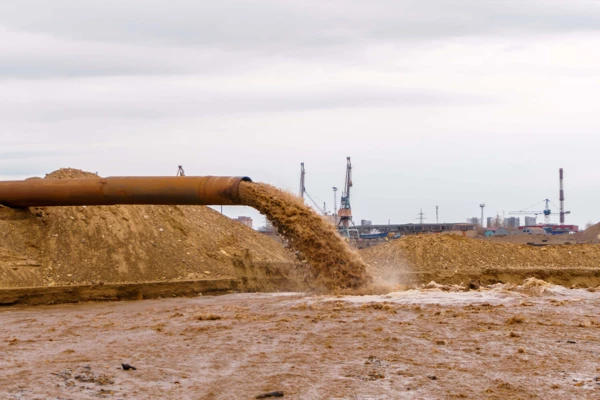 High wear and low serviceability when pumping sludge
The mine operators were highly dissatisfied with the performance of the rotary lobe pumps used, as the previous models were extremely prone to wear. The high abrasive effect of the molybdenum sludge repeatedly caused damaged seals and high wear on the pumps. In addition, maintenance work proved to be extremely difficult because the pump is mounted under a concentrator. The length, width and height are sometimes less than one metre.
Rotary lobe pump from NETZSCH as solution for sludge conveying
Therefore, the operators decided to change the model. In search of an alternative, the operators contacted NETZSCH. The new system should fit better into the limited space and have a significantly longer service life. Above all, the extreme seal wear had to be eliminated. As part of a pilot project, the experts from NETZSCH first gained a precise picture of the general conditions on-site. Through further analyses and the installation of a test model, a TORNADO® T.Envi® rotary lobe pump from NETZSCH customised precisely for the needs on-site was finally constructed and then put into operation.
The compact TORNADO® T.Envi® rotary lobe pumps are optimally adapted to your individual requirements in environmental and biogas technology.
Individualised slurry pump convinces in all criteria
To reduce the wear caused by the highly abrasive medium to a minimum, both the rotary lobes and the parts in contact with the medium were provided with a special coating. Double-acting mechanical seals were installed to counteract extreme seal wear. A thermosiphon system, unique in this form, was also installed to detect leaks and protect against them. The NETZSCH engineers solved the space problem with an exceptionally compact rotary lobe pump design with a motor flanged directly to the pump housing. This created sufficient space for maintenance.
In addition, a removable front plate was installed, which additionally facilitates maintenance work and enables the replacement of worn parts within a short time. The combination of improved space conditions and the removable front plate reduced the service time per operation from 10.5 to two hours.
The pump system is convincing in operation not only because of the reduced service effort but also because of its long service life. For this reason, other TORNADO® rotary lobe pump systems are now in use on-site.
TORNADO® T.Envi® rotary lobe pump
Medium: Molybdenum sludge with a solids content of 60 percent
Flow rate: Up to 90 m³/h