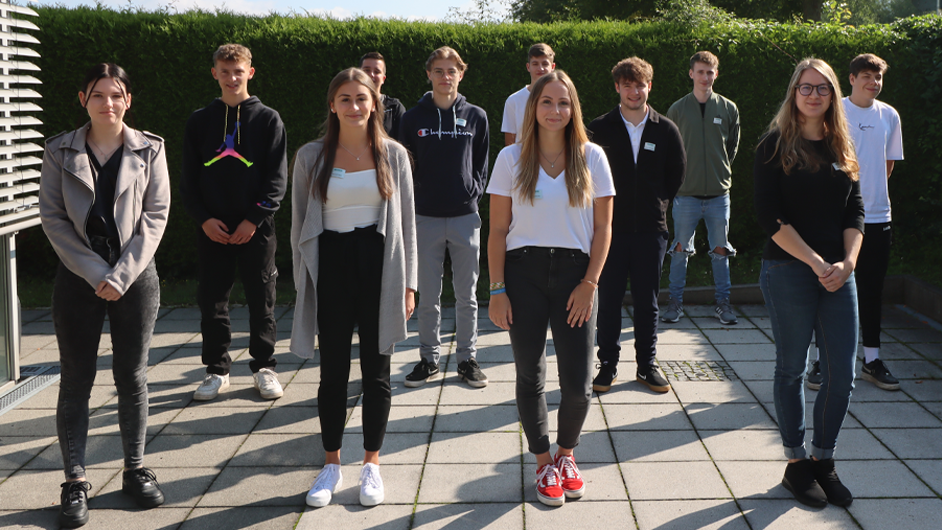 01.09.2021
Starting a New Phase in Life: NETZSCH Welcomes Twelve Industrial and Commercial Apprentices
On September the 1st, twelve apprentices started their commercial or industrial training at NETZSCH Pumpen & Systeme GmbH. In addition to the welcome by the management, there were many other highlights on the program right at the beginning.
Full of excitement coupled with curiosity, twelve apprentices began their training yesterday as industrial clerks (Manuela Maier, Robin Schreck and Tanja Zehethofer), industrial mechanics (Alexander Pichlmeier, Amando Bäcker, Quirin Wrzal, Lukas Göller, Niklas Kandlberger, Nadine Brandtner and Jonas Rauscher), IT specialist application development (Markus Oberbauer) and IT specialist system integration (Saskia Hundseder) at NETZSCH.
Welcome by the management and team building at NETZSCH
Apart from some organizational points and the welcome by the management, the focus both yesterday and today was on getting to know each other. The first topic on the agenda was an occupational safety briefing in compliance with the currently applicable 3G rule. After the apprentices were welcomed by the management, the head of apprenticeship, the works council and the youth representatives, various information about the apprenticeship at NETZSCH was explained to them. In addition to various team-building activities, the young people were then introduced to their respective mentors. Apprentices take on the mentor role from higher apprenticeship years. They are supposed to assist the new employees during the first weeks and months with questions about everyday life and the apprenticeship, thus making it easier for them to get used to the company. Getting to know each other was rounded up by a guided tour of the company in the respective plants before it was time to get down to the nitty-gritty this afternoon: The new trainees got to know their respective departments and were allowed to explore their future workplace.
NETZSCH apprentices travel to Ruhpolding
The next highlight is already waiting for our new apprentices: Together with their trainers, they will go on the annual apprentice trip to Ruhpolding tomorrow. In addition to a hike, the program includes a snack together, and the summer toboggan run. We look forward to welcoming you to NETZSCH!
More news from NETZSCH Pumps & Systems