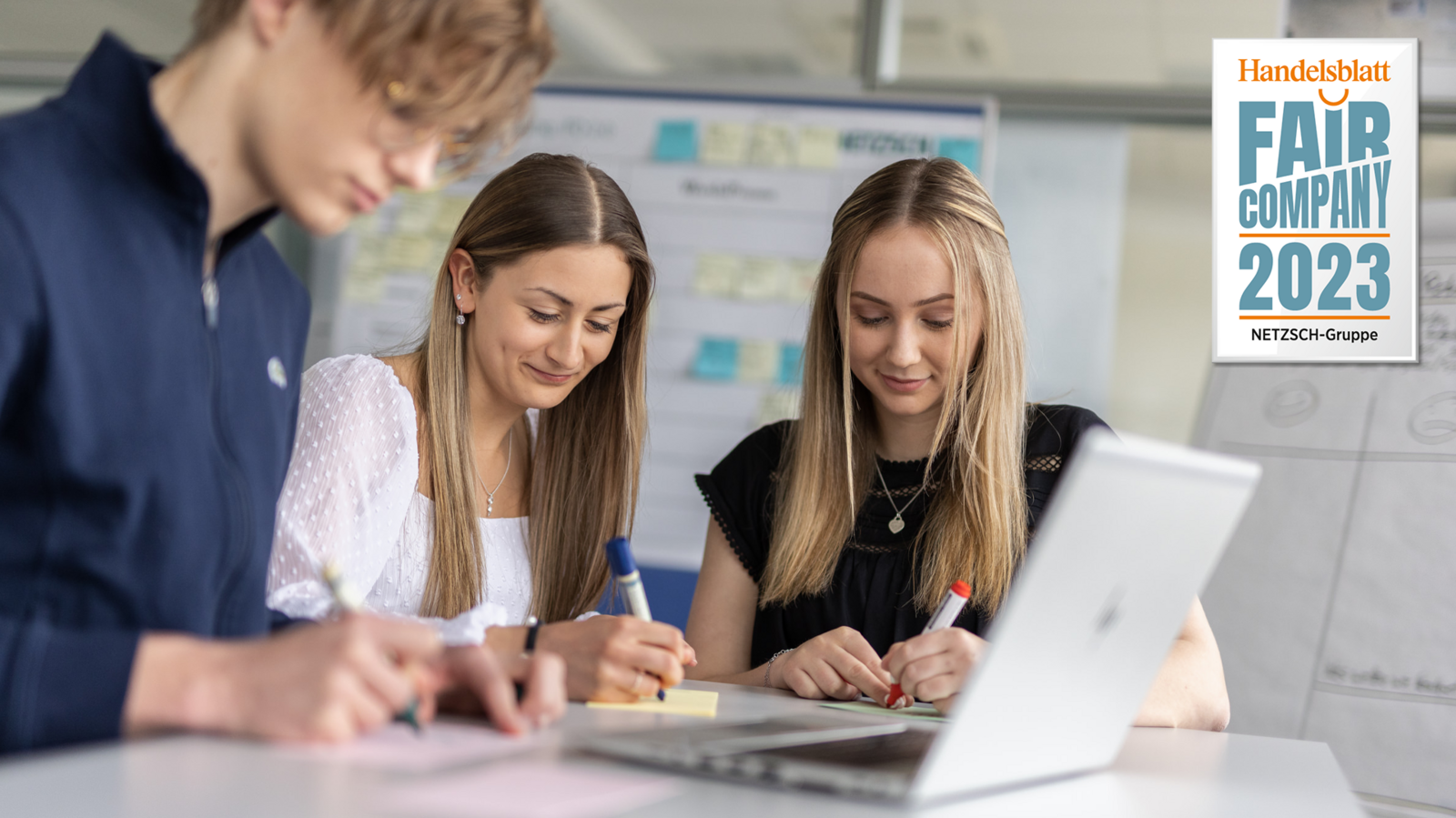 09.03.2023
For the Twelfth Time: NETZSCH Awarded as "Fair Company"
NETZSCH was named "Fair Company" in early 2023 for the twelfth time. The award marks that the global specialist for complex fluid management also sets standards regarding fair working conditions and employee development.
Fair Company is the largest and best-known employer initiative in Germany. It is sustainably committed to a fair working environment and explicitly targets young professionals and those just starting their careers. The award is given to companies committed to a set of rules for a good start of the professional life of their employees.
NETZSCH and Fair Company: "A Perfect Symbiosis"
"Fair Company and NETZSCH are a perfect symbiosis. The initiative's goals optimally match the corporate values lived at NETZSCH. We are proud to receive the Fair Company Award for the twelfth year in a row. Thanks to our new NETZSCH Campus in Waldkraiburg, we will also be able to offer the best conditions and exciting prospects in the future."
The Fair Company Initiative awards companies which offer young people fair working conditions and development prospects. The initiative has been connecting companies and committed young professionals since 2004. Founded by Handelsblatt, the initiative creates transparency and orientation for young professionals: Apprentices, interns, working students, and trainees, for final theses, the start after graduation or for people with first work experience.
Benefits at NETZSCH Pumps & Systems
The performance of our employees is what makes NETZSCH so successful. We support all our employees on their way to excellence and create optimal conditions for outstanding cooperation. Discover your advantages with NETZSCH as an employer. Grow with us - among other things, we offer you the following benefits:
Mobile working
With the "Mobile Working" concept, we enable our employees to work more flexibly with modern IT equipment, depending on their job.
NETZSCH Academy
To develop the potential of our employees both personally and professionally, we offer them a wide range of opportunities for further development within our corporate structures. Our own Academy has over 200 courses and events to choose from each year.
Flexible working hours
Besides sufficient recreational opportunities in the form of holidays, it is of significant important to us to provide enough leeway in everyday working life through flexible working hours or part-time models.
NEZTSCH: Fair conditions beyond the working environment

In addition to fair working conditions, numerous other aspects are also taken into account for the assessment as a fair company. These include, among others, work organisation, cooperation and leadership, corporate culture and values, commitment to employees, diversity and equal opportunities, appropriate behaviour in the market, social responsibility or sustainability. Values filled with life at NETZSCH. Since its first application in 2012, the company has won the prestigious "Fair Company" award every year - for the twelfth time in a row.
More news from NETZSCH Pumps & Systems