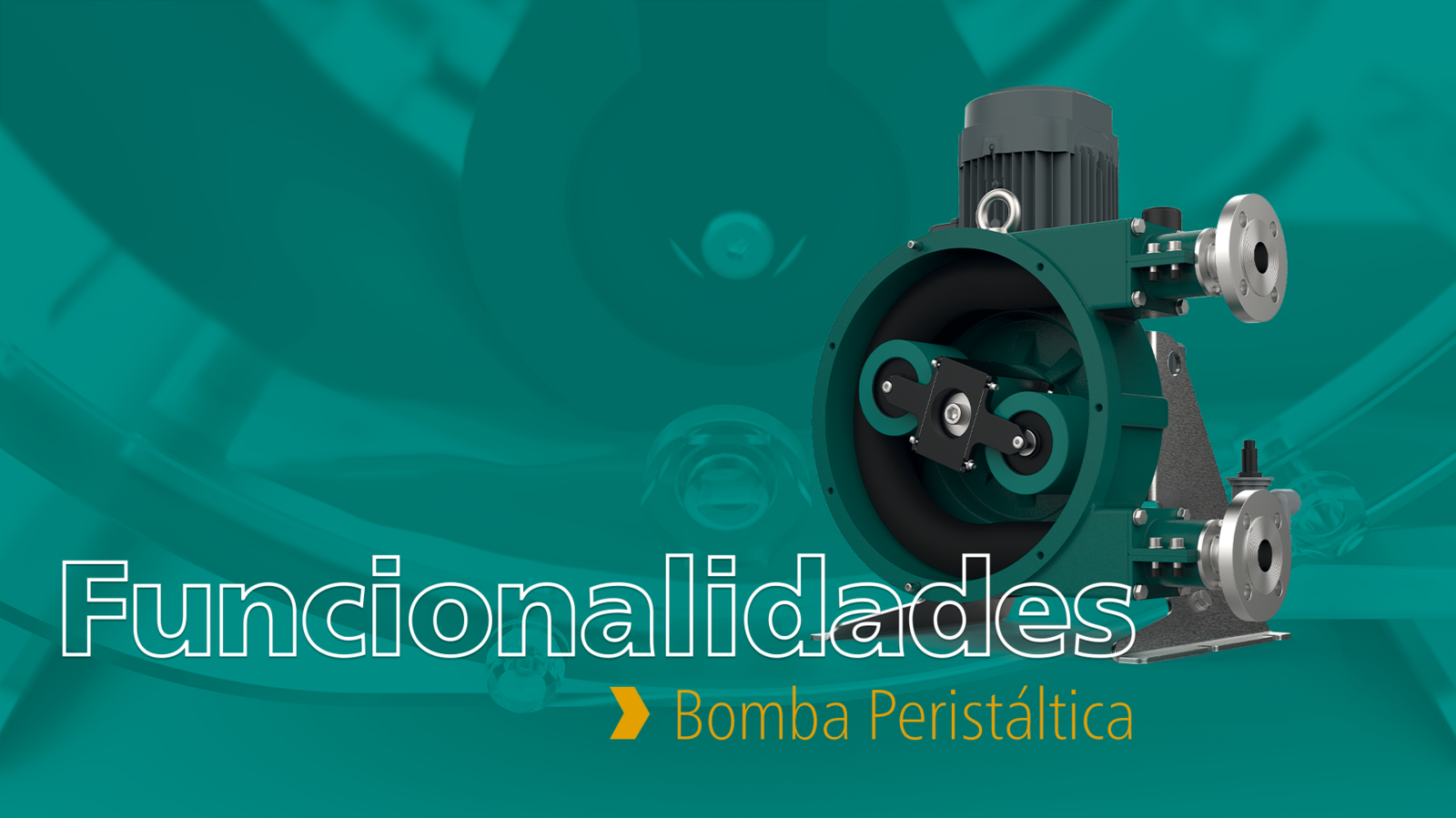 15.09.2022
Funcionalidades da bomba peristáltica da NETZSCH
Como funciona uma bomba peristáltica? Mostraremos as funcionalidades da bomba peristáltica e como você se beneficia ao usá-la. Além das tecnologias já comprovadas da bomba helicoidal NEMO®, da bomba de lóbulo rotativo TORNADO® e da bomba de fusos NOTOS®, a NETZSCH agora também oferece bombas peristálticas PERIPRO™.
Como todas as outras bombas da NETZSCH, as bombas peristálticas também pertencem ao grupo de bombas rotativas de deslocamento positivo e funcionam de acordo com este princípio.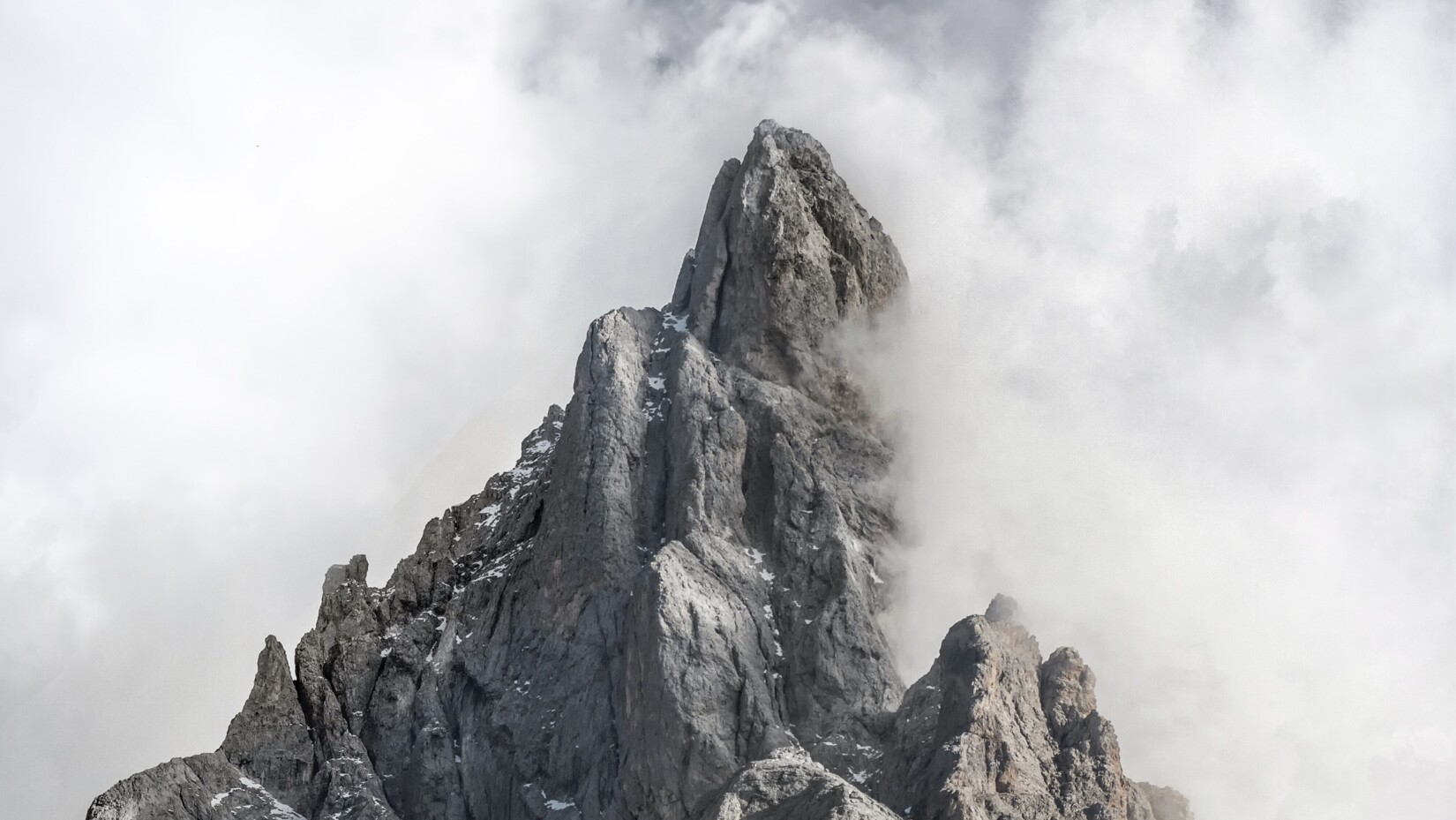 Atendimento Personalizado
Componentes importantes para a função da bomba peristáltica
The special feature of the PERIPRO™ peristaltic pump is that it has only one wearing part, the hose. This means that only a minimum of maintenance is required. Four components are elementary for the function of the peristaltic pump: A característica especial da bomba peristáltica PERIPRO™ é que ela possui apenas uma peça de desgaste, a mangueira. Isso significa que o mínimo de manutenção é necessário. Quatro componentes são fundamentais para a função da bomba peristáltica:
Mangueira
Carcaça
Rolamentos
Roletes
The hose is an exceptionally high-quality product produced by a unique manufacturing process. It consists of an extruded inner layer, a high-density textile reinforcement and a precision-manufactured outer layer. This ensures optimal compression. You also benefit from its simple and quick installation, saving you time and money. The hose materials are compatible with all types of products and working conditions, ensuring the smooth operation of the peristaltic pump. For the food sector, NETZSCH also offers you an FDA-certified version. The innovative housing design of the pump simplifies installation, commissioning and maintenance for you simultaneously. In addition to simple hose replacement, the maintenance-free PERIPRO peristaltic pump also consumes up to 90 percent less lubricant than conventional pumps. This is a decisive factor, especially with constantly rising oil prices. To offer you maximum safety despite pumping aggressive, abrasive media with a high solids content, the PERIPRO is manufactured with oversized bearings and robust construction materials. This means that nothing stands in the way of safe and reliable conveying. NETZSCH relies on XXL rollers for the rollers, which minimises the starting torque and significantly increases the hose service life.
A mangueira é um produto de alta qualidade produzido por um processo de fabricação único. Consiste em uma camada interna extrudada, um reforço têxtil de alta densidade e uma camada externa fabricada com precisão. Isso garante a compressão ideal. Você também se beneficia de sua instalação simples e rápida, economizando tempo e dinheiro. Os materiais das mangueiras são compatíveis com todos os tipos de produtos e condições de trabalho, garantindo o bom funcionamento da bomba peristáltica. Para o setor alimentício, a NETZSCH também oferece uma versão certificada pela FDA. O projeto inovador da carcaça da bomba simplifica a instalação, comissionamento e manutenção para você simultaneamente. Além da simples substituição da mangueira, a bomba peristáltica PERIPRO livre de manutenção também consome até 90% menos lubrificante do que as bombas convencionais. Este é um fator decisivo, especialmente com o constante aumento dos preços do petróleo. Para oferecer a você a máxima segurança apesar do bombeamento de meios abrasivos agressivos com alto teor de sólidos, o PERIPRO é fabricado com rolamentos superdimensionados e materiais de construção robustos. Isso significa que nada impede um transporte seguro e confiável. A NETZSCH conta com roletes XXL para os roletes, o que minimiza o torque de partida e aumenta significativamente a vida útil da mangueira.
Peristaltic pump function
The design of the PERIPRO hose pump enables you to convey abrasive and aggressive media in a wide variety of applications.
External mechanical deformation forces the medium to be pumped through the hose. The pump housing supports the hose and is clamped by the XXL rollers. The rollers rotate on a rotor. The rotation causes the pinch-off point to move along the hose, thus propelling the pumped medium. The elasticity of the hose material creates the suction vacuum and thus ensures the function of the peristaltic pump. Another advantage resulting from the design is the insensitivity to dry running. Using a peristaltic pump, you can convey even inconstant quantities or products with a high solids content without any problems.
Energy saving through functioning peristaltic pump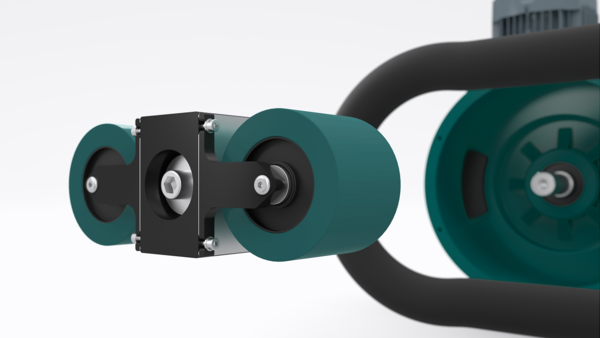 The innovative design of the PERIPRO not only offers the maintenance-free operation of the peristaltic pumps but also enables you to save up to 30 percent energy. The XXL rollers ensure optimum compression of the hose without friction. This provides easy operation with minimal starting torque and an extensive frequency range. In addition to the energy savings, the service life of the hose is also extended, which minimises your maintenance costs.
Peristaltic pump: Function and powerful delivery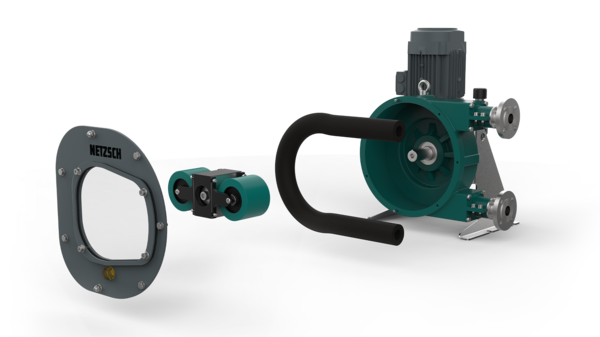 PERIPRO peristaltic pumps are particularly robust due to their design, XXL rollers and oversized bearings. Furthermore, the peristaltic pumps have an extremely high suction capacity. In addition to reversible and powerful delivery, the PERIPRO also offers you the highest dosing accuracy with a deviation of less than one percent. This means you can dose with maximum precision even in applications with variable pressure. Thanks to the peristaltic pump function, nothing stands in the way of precise and powerful delivery.
Peristaltic pump function: One technology - three versions
As a global specialist in complex fluid management, NETZSCH offers you three different designs of peristaltic pumps to cover the broadest possible range of applications: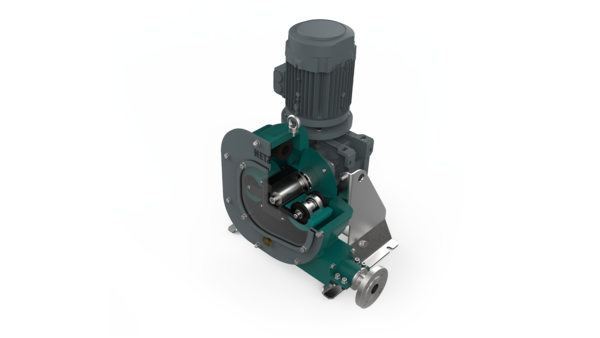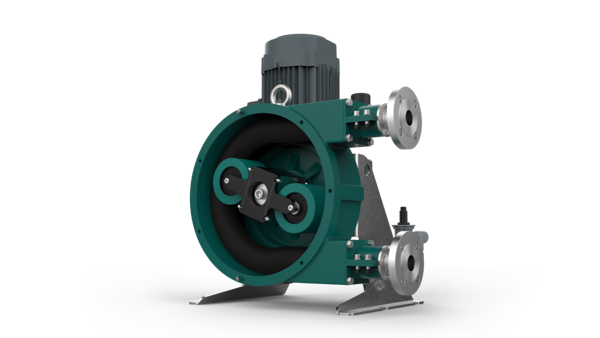 Whether for industrial, food or chemical applications, the PERIPRO hose pump functions according to the same principle and impresses its robustness and minimal maintenance requirements. Benefit from the function of the peristaltic pumps in the future and reduce your energy requirements.
More news from NETZSCH Pumps & Systems