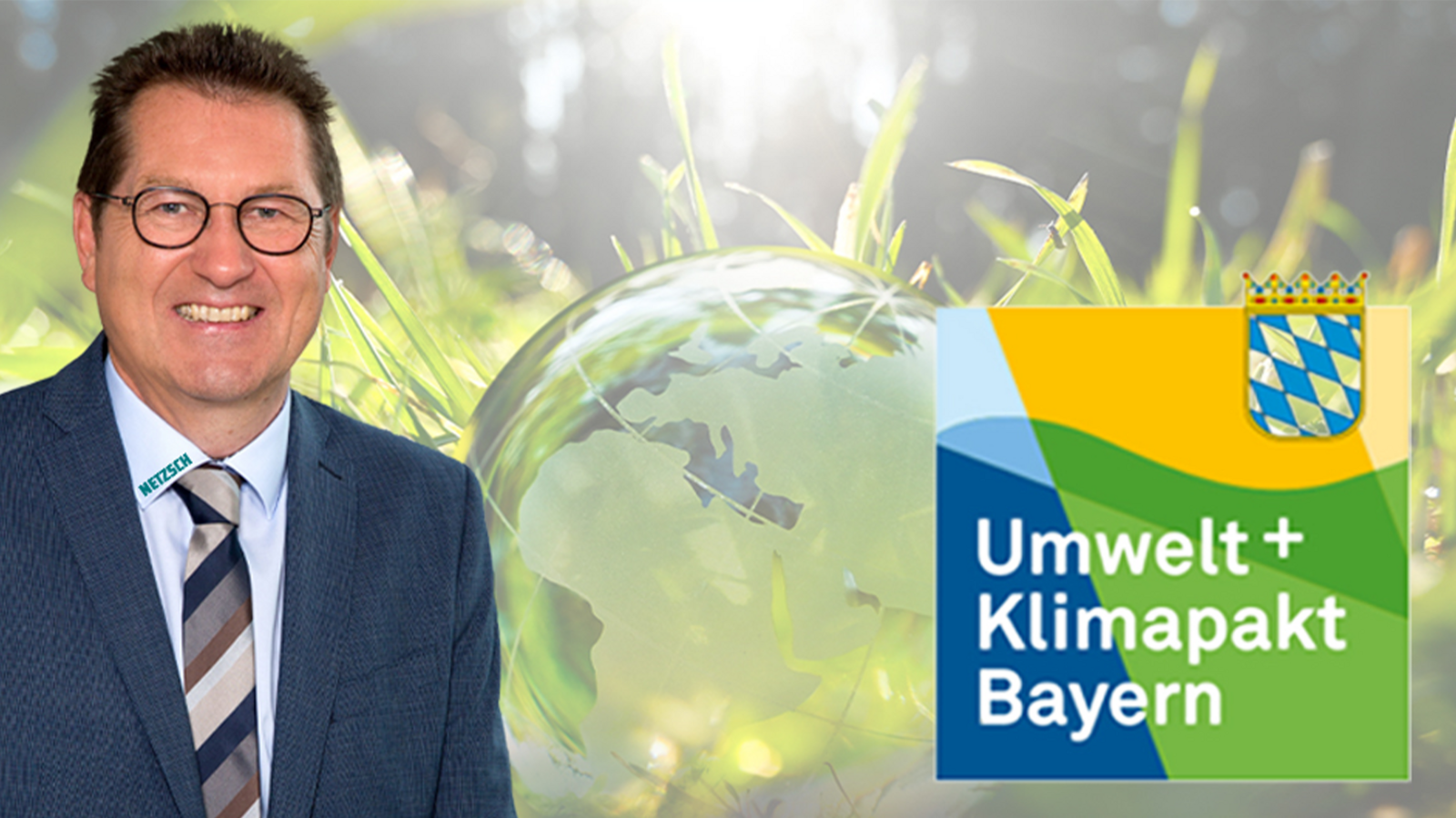 15.02.2021
NETZSCH Receives Bavarian Environmental and Climate Pact Award
Climate and environmental protection for a sustainable future: NETZSCH is participating in the Bavarian Environment and Climate Pact with qualified voluntary environmental services until the beginning of 2024. Therefore, the pump manufacturer from Waldkraiburg was awarded a certificate by the Bavarian State Minister for the Environment and Consumer Protection, Thorsten Glauber.
"Environment and climate protection play a central role at NETZSCH. We are aware of our social and ecological responsibility", emphasizes Executive Board member and Director of Integrated Quality Management Johann Vetter. The goal is to avoid future environmental pollution through environmental friendliness and a sustainably oriented business approach. This applies to both production and products. As a globally active family business, the pump manufacturer has taken several measures and submitted them to the state government. Firstly, the gas heating system in plant II was switched to new circulation pumps and secondly, the old neon lamps in plant III were replaced with modern LED lamps. This will not only save a lot of energy in the future, but also increase the well-being of employees.
Sustainable improvement in ecological, economic and social fundamentals
The Bavarian Environmental and Climate Pact is an agreement between the Bavarian state government and Bavarian industry. It is based on voluntary action, personal responsibility and cooperation. Since the natural foundations of life can be better protected with the help of voluntary and reliable cooperation between the state and business than with laws and regulations alone. The focus is on the proactive avoidance of future environmental burdens and not on their repair. The overriding goal of the pact is to sustainably improve the ecological, economic and social conditions of current and future generations in Bavaria.
Climate and environmental protection for a sustainable future
In addition to the modernization measures already mentioned, a total of 8,500 square meters of industrial brownfield land at plant II and III in Waldkraiburg have been converted into ecologically valuable flower fields. A further prerequisite for participation in the pact is the presentation of a certificate in environmental protection. The pump manufacturer has two of them. The ISO 14001:2015 award and its long-standing Ecoprofit membership. As a founding member of the VDMA (Verband Deutscher Maschinen- und Anlagenbau) Blue Competence initiative, the industrial company has also been demonstrating social and ecological responsibility for many years. "Climate and environmental protection will continue to play a central role at NETZSCH in the future, not least with the construction of the new production site in Waldkraiburg and the associated plant consolidation", says Vetter, indicating the future direction.
More news from NETZSCH Pumps & Systems