Chemicals
How to Pump Aggressive Chemicals Safely and Reliably From Tank Trucks
With this chemical pump, you can pump dangerous goods in explosive areas

Do you use a centrifugal pump to empty tank wagons filled with aggressive chemicals such as tenside? In this case, problems such as interrupted delivery flows, production downtimes and high personnel costs are undoubtedly familiar to you. If you are tired of dealing with these issues daily, you are in the right place at NETZSCH Pumps & Systems.
The all metal design of the TORNADO® T.Proc® rotary lobe pump ensures trouble-free control operation when emptying tank trucks despite the most demanding conditions.
Emptying tankers can cause problems for many pumping processes.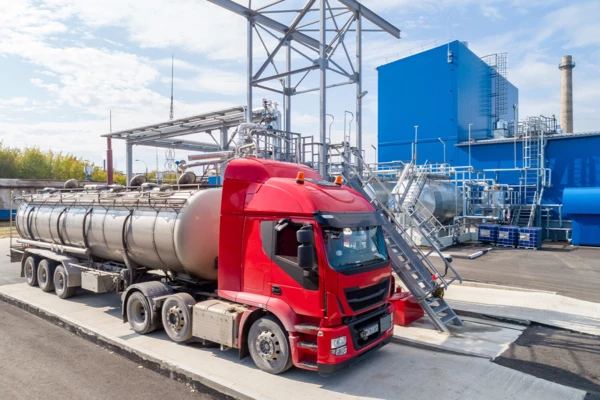 Chemical Industry
The chemical industry impacts our lives daily. Without it, countless products so familiar to us could not exist like car components, computers, cleaning supplies, and dental prosthetics.
Challenge accepted
The chemical industry includes diverse applications that result in the need to convey an extensive variety of products, including such substances as softeners, adhesives, urea, dispersions, hydrogen peroxides, kaolin, PVC, PVA, resins, and titanium dioxide. With over 150,000 NETZSCH pumps in the field over the last five decades for the chemical industry alone, NETZSCH offers the experience you need to match your requirements.
With the TORNADO® T.Sano® with smooth surface, you can pump even the most demanding media in compliance with the strictest hygiene regulations.
This pump enables you to pump chemicals safely and reliably in explosive areas
For the decision process, the unique requirements and operating conditions were taken into consideration. Therefore, TORNADO® T.Proc® rotary lobe pump was chosen. Thanks to the all-metal design, even chemicals diluted with solvents can be pumped without reducing the pump performance. Compared to centrifugal pumps, the service life of all components in contact with the product is significantly increased. In addition, a universally applicable special elastomer was used for the seals, which has a high chemical and temperature resistance due to its composition. Since the pump operates in an area declared as an explosive area, the pump must not run dry under any circumstances. For this reason, a pressure and a dry-running safety device have been integrated. Therefore, the pump switches off automatically in case of a malfunction.
Excellently solved
Pumps made of conventional materials such as stainless steel and cast iron are not always appropriate, especially in the chemical industry so NETZSCH offers NEMO PUMPS® in materials such as duplex stainless steel, Hastelloy®, Uranus® or titanium. Your NETZSCH team of experts will help you find the perfect solution for your specific application.
TORNADO® T.Proc® rotary lobe pump
Medium: Tenside
Capacity: 15 to 20m³/h
Pressure: 4 bar
Viscosity: Up to 50.000 mPas
Product: Tenside
Throughput volume: 15 to 20m³/h
Pressure: 4 bar
Viscosity: Up to 50.000 cP