silicon
Exact Mixture of Different Material Components
Combination of several barrel emptying units convey materials without interruption
In silicone production, NBE 200 barrel emptying systems ensure the exact mixing of the most varied material components.
Several container emptying units in combination convey the materials without interruption.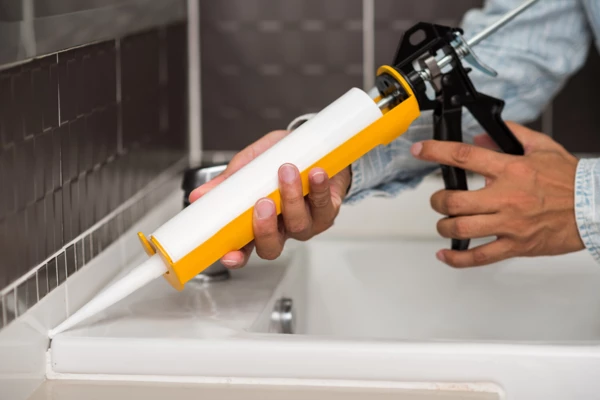 Look behind the scenes
The higher the requirements are in terms of the characteristics and high performance of modern materials, the more individual components have to be combined and accurately mixed to produce them. This means correct metering is essential and accuracy requirements of ±1 percent are not uncommon.
Challenge accepted
Five different components have to be combined in the right mix ratio for silicone production, including a product filled with carbon black particles which is highly abrasive effect. The materials need to be taken out of 200-liter barrels and accurately metered with a pumping capacity of 25 l/m via three existing floor scales.
Excellently solved
Because two of the components have to be supplied in larger quantities than the others, NETZSCH installed three conventional NBE 200 barrel emptying units, along with two so-called twin versions. These each comprise two of the barrel emptying units and can therefore be switched over to the second barrel after emptying the first without any interruption, while the first one is being replaced. There is clear, combined control of all seven units via a central interface. High strength steel and robust elastomers are used on all pumps for the rotor and follow plate, along with the stator and levelling collar. This ensures that even the medium filled with carbon black can be transported without any increased wear on the system components.
The way the progressing cavity pump itself works also contributes to the long service lives of the barrel emptying units. The slim design with a small number of individual parts is less susceptible to faults than other conveyance technologies and in addition the material – particularly on the seals – is not put under such a heavy strain by the uniform rotation as it is by alternating lifting-lowering movements in piston pumps for example. The external components can also be easily removed for any kind of cleaning and maintenance work, which significantly reduces the length of any disruptions to operations. Together with ensuring high conveyance volume and uninterrupted metering even of larger quantities via the twin system, it was thus possible to reduce the processing time for individual production orders by around 50 percent. A silicone manufacturer has therefore been able to simplify the extraction and metering of their different basic substances and to roughly halve the production time.
Barrel emptying system with NEMO® BH pump
Product: Silicone
Throughput volume: 25 l/min
Pressure: 18 bar
Viscosity: 50.000 to 250.000 cP