Mayonnaise
Gentle Conveyance Ensures High Mayonnaise Quality
NEMO® progressing cavity pumps convey the product gently with low shear
In the food industry, NEMO® hygienic progressing cavity pumps guarantee particularly high quality in the production of mayonnaise due to their gentle and efficient conveyance.
The dead space-free construction of the Hygienic Pump also fulfills the highest standards of hygiene in the food industry.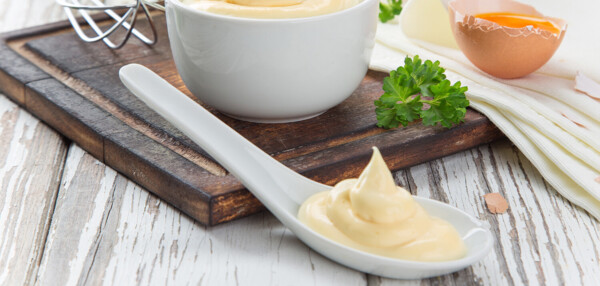 Look behind the scenes
The global mayonnaise consumption has even surpassed that of ketchup. The large demand means that a correspondingly high level of efficiency is needed in industrial production but the production of the egg and oil emulsion is certainly demanding.
Challenge accepted
Egg yolk, salt, oil, spices, starch and water form the basis of the mayonnaise. The main problem in this process is making sure there is a consistent distribution of oil droplets in the water and preventing the emulsion breaking down into a water-in-oil mixture. This mixture could not be beaten into the required cream, but would have the consistency of a salad dressing instead. Even the finished mayonnaise is still susceptible to the mixture changing through too much energy input, possibly in the form of strong shear forces during conveyance. In addition, mayonnaise is a so-called plastic fluid. This means that the viscosity is reduced when a shear stress is applied. Conveying systems in production must be designed for these special characteristics.
Excellently solved
NEMO® hygienic progressing cavity pumps are based on the rotor-stator principle: In these, there is continuous conveyance from the inlet to the discharge side with the rotation of the product. Together with the pump's low-pulsation operation and low speed, gentle conveyance is achieved which keeps the product smooth and has a low shear rate – this is a crucial factor for the quality of the mayonnaise. Furthermore, the NEMO® hygienic progressing cavity pump is designed for the high hygiene requirements of the food industry. With a view to this, NEMO® hygienic pumps have been designed to have no dead spaces, so that no product components can be deposited in the housing. This even applies to the open hygiene joints. All surfaces of the NEMO® hygienic pump that come into contact with the product are made of stainless steel and polished, to prevent the product adhering and to facilitate CIP cleaning. To achieve the required flow speed during CIP cleaning, NEMO® hygienic pumps have additional flushing supports. This means it is even possible to sterilize the system.
NEMO® BH hygienic pump
Product: Mayonnaise
Flow rate: 0,1-30 m³/h
Pressure: Max. 4 bar